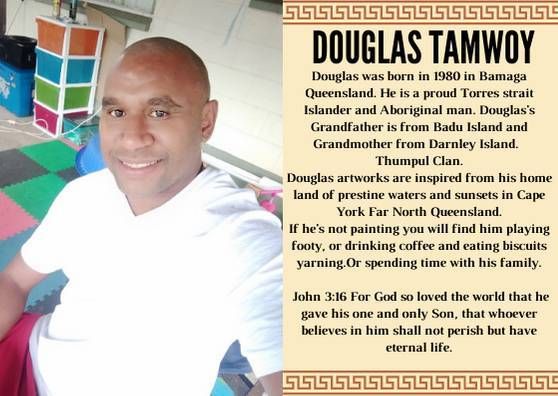 Artist Member
Douglas Tamwoy
Painting on all media; Sculpture or installation
Artist Member
Douglas Tamwoy
Douglas Tamwoy was born in 1980 in Bamanga, Queensland. He is a proud Torres Strait Islander and Aboriginal man. Douglas' Grandfather is from Badu Island and Grandmother from Darnley Island. Thumpul Clan.

Douglas' artworks are inspired form his homeland of pristine waters and sunsets in Cape York, Far North Queensland. If he's not painting you will find him playing footy, or drinking coffee eating biscuits and yarning. Or spending time with his family.
Search Artists, Dealers and Supporter Members
Featured artist Members
Want to become an artist member?
Do you have more questions?
Do you need further advice and support?