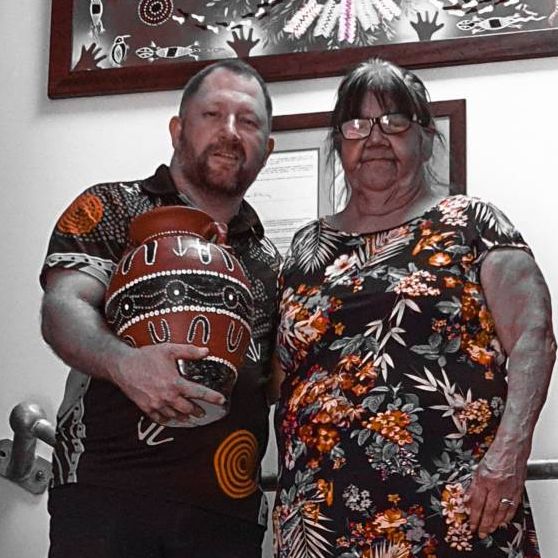 Artist Member
Edward Feuerstein JP
Wiradjuri
Painting on all media; Editioned prints; Weaving; Photography, video, sound or media work; Wood and/or stone crafted objects; Ceramics, glass, jewellery or furniture; Sculpture or installation; Textiles including fabric and fashion; Merchandise and licensed products
Artist Member
Edward Feuerstein JP
Wiradjuri
Edward Feuerstein JP identifies as being an Aboriginal man and a Descendant of the Wiradjuri Tribe/ Mob from regional NSW. Edward's Skin name given to him by Elders is Eddie Wiradjuri Birrang ( Meaning Edward's Journey).

Edward's Great grandmother was of Aboriginal parents Campbell and Williams. The Bloodline is Read- Standley- Taylor- Campbell and the songline connects to Traditional Owner - Aunty Rhonda Jean Towney.

Edward has experienced a journey for many years working with elders and Aboriginal people from the Aboriginal and Torres Strait communities. Edward's mob's totem is the goanna and his families' totem is the Kangaroo. Edward's experience and the journey have allowed him to teach and enrich others in a training environment with TAFE NSW, teaching Aboriginal and non-aboriginal students from around Australia in South West Sydney. Edward taught in the SWSI TAFE Aboriginal unit in Macarthur, which allowed him to teach students from all around Australia in Cultural Awareness, Art, Community Services, Counselling, and Mental health. Edward does a Range of Traditional Art.

Eddie has a unique style of art that uses Ochre paint, Carving, Burning, and even graphic design. Dreamtime Explorers Australia Pty Ltd has a board of Elders who continue to advise and shape the journey of its making and teaching future generations.
---
Contact details
NSW
admin@dreamtimeexplorers.com.au
Search Artists, Dealers and Supporter Members
Featured artist Members
Want to become an artist member?
Do you have more questions?
Do you need further advice and support?