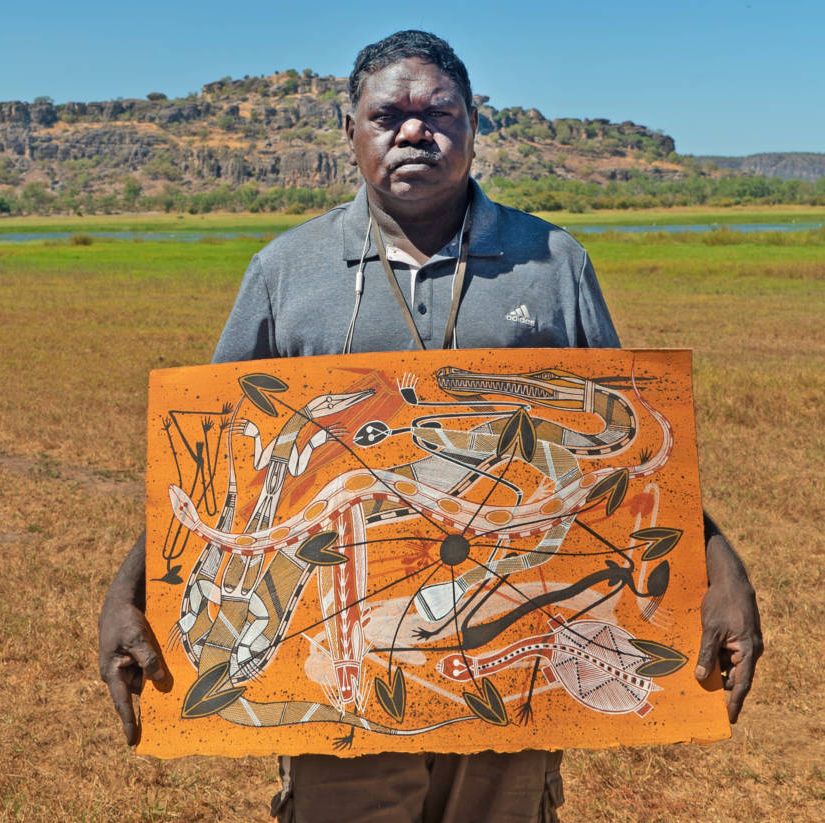 Artist Member
Gabriel Maralngurra
Kunwinjku
Painting on all media
Artist Member
Gabriel Maralngurra
Kunwinjku
Gabriel Maralngurra was among the founding members of Injalak Arts in the late 1980s, and continues to be a driving force at the art centre today. His artistic practice is reflected in the breadth and depth of the subjects he paints. Inspired by the rock art of West Arnhem Land, he references and innovates within this artistic tradition. His knowledge of stories, plants and animals are reflected in his fluent linework and highly original compositions.

Gabriel is an ambassador and mediator for Kunwinjku culture, having worked for many years as a tour guide, Kunwinjku-English translator, Injalak board member and president, and screenprinter. He is currently Co-Manager of Injalak.

It is in large part Gabriel's vision and belief in the mission of the art centre that has enabled it to carry on and thrive. He has helped to create a place where the Art History of West Arnhem Land is valued, developed, shared with others, and apprenticed to younger generations.

© Gabriel Maralngurra and Injalak Arts and Crafts Aboriginal Corporation, 2020.

Photo: Injalak Arts and Crafts Aboriginal Corporation, 2020.
---
Contact details
Search Artists, Dealers and Supporter Members
Featured artist Members
Want to become an artist member?
Do you have more questions?
Do you need further advice and support?