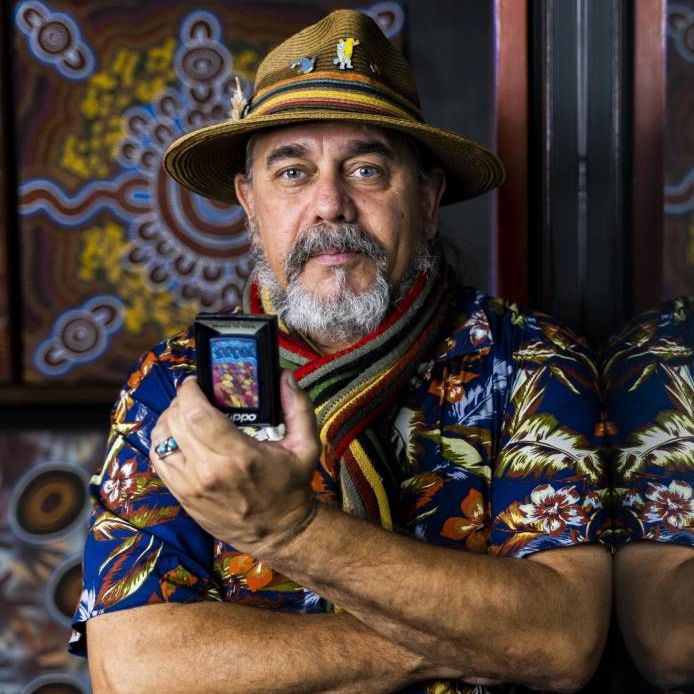 Artist Member
John Smith Gumbula
Wakka Wakka / Yolngu Matha
Painting on all media; Editioned prints; Photography, video, sound or media work; Ceramics, glass, jewellery or furniture; Textiles including fabric and fashion; Merchandise and licensed products
Artist Member
John Smith Gumbula
Wakka Wakka / Yolngu Matha
A force of nature, John Smith Gumbula is a proud descendant of the WakkaWakka | GurangGurang First Nations people from Queensland, Australia, adopted son of the Yolngu, Galiwinku Elcho Island, NT. For 30 years I have been passionately involved in diverse indigenous arts/mediums, innovation & culture in Australia and on the world stage. In the 90's I spent time at the indigenous unit at the Queensland Museum whilst engaged as an indigenous curator at the Regional Galleries Association of Queensland. In 1997 I was awarded the prestigious 'QEII Queen Elizabeth II Silver Jubilee Trust award for young achieving Australians' by HE former Governor-General Sir William Deane and Lady Deane at the Governor's mansion, Sydney. My passion for the arts, learning, and innovation in diverse art mediums & business cultural sectors later opened opportunities, diplomatic connections, entrepreneurial groups, and cultural connections worldwide. From the USA/ Canada, Switzerland, the Middle East to South East Asia, I have proudly shared my art and cultural heritage. Well known and respected by many first nations leaders and entrepreneurs in diverse business sectors, respectfully acknowledged as a Cultural Ambassador by them and his people for promoting and building cultural bridges of understanding amongst the world communities. Passion resonates in my heart and spirit, which is to share my wisdom, experience, and visionary knowledge with First Nations throughout Australia, globally, and develop long-term impact Socio-economic Sustainable Developments for Indigenous Economies. The innovative thinking of engagement has enabled me to acquire diverse knowledge, experience, and multiple skill sets that not only has expanded my creative profession, but it has importantly given me the knowledge to help support first nation people and communities. I also acknowledge the United Nations Declaration on the Rights of Indigenous Peoples, General Assembly articles 1 to 46.
---
Contact details
Search Artists, Dealers and Supporter Members
Featured artist Members
Want to become an artist member?
Do you have more questions?
Do you need further advice and support?