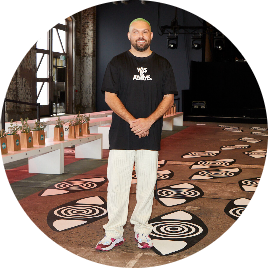 Artist Member
Keedan Rigney
Ngarrindjeri
Painting on all media; Graphic and digital design; Public art
Artist Member
Keedan Rigney
Ngarrindjeri
Keedan Rigney is a Ngarrindjeri and Wirangu artist based in Melbourne, originally from South Australia. Through his art, he aims to bring attention to intergenerational trauma and the historical as well as current injustices faced by Aboriginal and Torres Strait Islander people. Keedan's creative expression revolves around challenging societal perceptions by portraying narratives that delve into conflict and its consequences. With the goal of expanding his artistic repertoire, he aspires to explore different mediums and encompass a wide range of art forms in his works.
---
Contact details
Wurundjeri Country, Blackburn, VIC 3130
keedan@live.com.au
0423541077
28 962 904 526
Search Artists, Dealers and Supporter Members
Featured artist Members
Want to become an artist member?
Do you have more questions?
Do you need further advice and support?