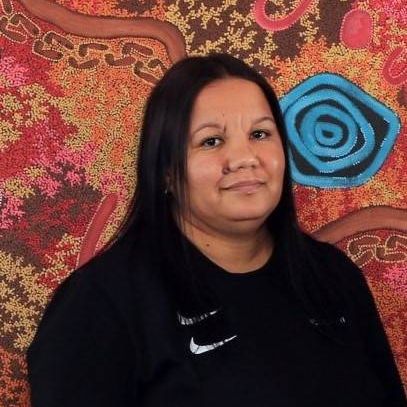 Artist Member
Kelly Taylor
Antakirinja/Yankunytjatjara
Painting on all media; Editioned prints; Photography, video, sound or media work; Wood and/or stone crafted objects; Ceramics, glass, jewellery or furniture; Textiles including fabric and fashion; Merchandise and licensed products
Artist Member
Kelly Taylor
Antakirinja/Yankunytjatjara
I am a Traditional Aboriginal Artist of KT Aboriginal Fine Art, I belong to the Antikirinya-Yankunytjatjara people on my grandmother's side and Kokatha people on my grandfathers side. My grandmother is Millie Taylor but she was a Lennon before she got married. My grandfather is Edgar Dingaman who is a Kokatha man who held the title as a Senior Lore man that had authority over Kokatha issues.

Every morning we would drive into Indulkana for the family to get to work and school and I would go with my nana and sit with her to paint at the Iwantja Arts Centre, after a while, I started to go to the arts centre myself and paint when the arts centre closed me and cousins, we would go down to the Indulkana creek and take all our little cousins with us and dig up wild bush onions along the creek beds we used to have so much fun hunting and gathering traditional foods, playing and rolling down beautiful red sandhills. We moved around a lot from Alice Springs to Ernabella, Fregon then to Indulkana and just out of Indulkana my grandmother showed me the old brick ruins were she was born out bush in between Indulkana and Marlabore.

I moved around a lot with my nana from Alice Springs to Ernabella, Fregon then to Indulkana, before she settled down on a small property, she named Wantjabella just out of Indulkana this is where my nana was born and one afternoon, she took me for a walk and showed me the old ruin where she was born out bush, I will never forget this day, it was amazing to see where my nana was born. My mum Loraine (dec) worked at the Indulkana store, and my mum's third oldest brother Darryl (dec) & his wife Audrey worked at the health and my mum's oldest brother Sammy (dec) worked at the Community Work Shed.

Over the years we started travelling again this time to Coober Pedy and nana travelled back and forth every couple of months until my mum's brother Darryl moved there with his family and nana and mum decided to move too. I stayed in Indulkana and lived with my uncle Andrew Dingaman for a couple of years and I started working at the school while I was still painting at the Arts Centre after a few years I moved away from Indulkana to Port Augusta where I travelled to live and support my nana.

While living in Port Augusta I travelled with nana to Ceduna to have Christmas with mums brother Malcolm Taylor (dec) and his family for Christmas after that I started travelling back and forth a few times with my cousin during this time I met my partner Trevor Ware and we had three beautiful daughters and I lived in Ceduna for the last 20+ years, I did a painting recently that represents 'Desert Meets Sea', it's about myself meeting my partner Trevor who comes from the sea and meets a desert girl and we have a family and travel the country together. Today me and my little family travel back home once in a while to catch up with family and see how everyone's going then I travel back to Ceduna, once I'm back home I start painting again with my daughter's. Painting helps me to relax, so I don't feel sad, stressed and worried about family members and lost loved ones but it also keeps me and my family connected to our culture and beautiful country.
---
Contact details
SA
sales@ktaboriginalfineart.com.au
Search Artists, Dealers and Supporter Members
Featured artist Members
Want to become an artist member?
Do you have more questions?
Do you need further advice and support?