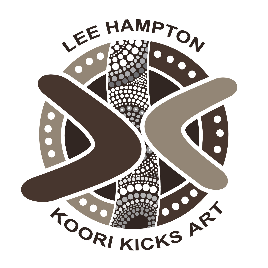 Artist Member
Lee Hampton
Wodi Wodi, Yuin, Worimi
Painting on all media; Editioned prints; Photography, video, sound or media work; Wood and/or stone crafted objects; Ceramics, glass, jewellery or furniture; Merchandise and licensed products; Reproductions of original works on canvas or other materials; Public art
Artist Member
Lee Hampton
Wodi Wodi, Yuin, Worimi
Lee is a Contemporary Aboriginal artist and a descendant of the Wodi Wodi (Dharawal), Worimi and Yuin Nations. His art style combines modern day paints with 60,000+ year old art practices.
A non-traditional storyteller, Lee takes current events that affect our everyday lives, and turns them into conversation pieces to allow us to have the hard conversations without conflict.
Lee has work with many Government and Coporate departments including Sydney Local Health District, Ronald McDonald House, Wesley Mission, The NRL, Teachers Mutual Bank Limited, Tennis NSW and many more.
Lee creates unique artworks for the home or office, along with Reconciliation Action Plan art pieces, digital designs for clothing and vinyl wall decals and much more.
Lee also has a large range of Print on Demand artworks, that can be custom printed in any size you like on canvas or art rag paper.
---
Contact details
unit 4, 116-118 Batt Street, Penrith, NSW 2750
lee@koorikicksart.com.au
0408880050
35 186 442 369
Search Artists, Dealers and Supporter Members
Featured artist Members
Want to become an artist member?
Do you have more questions?
Do you need further advice and support?