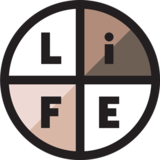 Life Apparel Co
Textiles including fabric and fashion; Merchandise and licensed products
Life Apparel is here to support, celebrate and broaden the exposure of Indigenous art, sharing its pride and bold richness in an industry that has long ignored it.

In close collaboration with Aboriginal and Torres Strait Islander artists, we create garments that respect and celebrate the values of Australia's First Nations people, placing their history and culture at centre-stage.

When Life Apparel (formerly known as Lifewear) was launched in late 2014, Indigenous design had hardly been acknowledged by the mainstream fashion community, having been widely viewed up until that point as something that "happened only in art centres".

We were born of the intention to connect First Nations artists, along with their art, their stories and their knowledge to the wider society through fashion items at an accessible price point, while creating economic opportunities for our collaborating artists and community.

As a proud member of the Indigenous Art Code, ethical trading of Aboriginal and Torres Strait Islander Art, transparent and fair dealings with artists is very important to Life Apparel and we're committed to honouring the cultural importance of Indigenous narratives in the most respectful way possible.

Through collaborations, ongoing community engagement, support and donations, Life Apparel is dedicated to making a positive impact with our products and business.

We, at Life Apparel operate on the principles of transparency and integrity under hundred percent Australian (non-Indigenous) ownership. We stand in solidarity as proud allies to the First Nations community and strive to advance the acknowledgement of the true history of Australia's First Nations people.

We know that looking great isn't all that matters. By wearing our clothing, we want to empower our customers with the ability to start meaningful conversations - regardless of cultural background - and to incite further learning and understanding about Aboriginal and Torres Strait Islander history and culture.
---
Contact details
Currumbin, QLD 4223
info@lifeapparel.co
07 5559 5137
46 440 518 779
Search Artists, Dealers and Supporter Members
Featured dealer Members
Want to become an artist member?
Do you have more questions?
Do you need further advice and support?