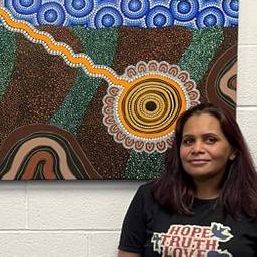 Artist Member
Melanie Pickett
Wadjak Ballardong Nyoongar and Wajjarri Yungunga Nya Yamatji
Painting on all media; Editioned prints; Ceramics, glass, jewellery or furniture; Merchandise and licensed products
Artist Member
Melanie Pickett
Wadjak Ballardong Nyoongar and Wajjarri Yungunga Nya Yamatji
I am a Nyoongar Yamatji Indigenous Contemporary Artist. I have been painting for 7yrs. I have paintings in Germany, London and Italy as well as in Western Australia, South Australia and NSW. I have also completed Commissions for a few Corporate companies.
Search Artists, Dealers and Supporter Members
Featured artist Members
Want to become an artist member?
Do you have more questions?
Do you need further advice and support?