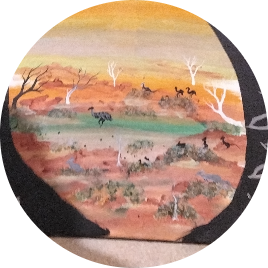 Artist Member
Perry Collard
Noongar, Yamatji
Painting on all media; Editioned prints; Weaving; Photography, video, sound or media work; Wood and/or stone crafted objects; Ceramics, glass, jewellery or furniture; Graphic and digital design; Non-fungible tokens (NFTs); Sculpture or installation; Textiles including fabric and fashion; Merchandise and licensed products; Reproductions of original works on canvas or other materials; Public art
Artist Member
Perry Collard
Noongar, Yamatji
Genuine one of a kind aboriginal art and designs. Tshirts,hats,shoes,helmets,pads,stubby holders,mouse pads pretty much anything that can be printed on you can have one of my designs on.
---
Contact details
Bowden, SA
Perrynormancollard@gmail.com
0437274904
Discover artworks
Search Artists, Dealers and Supporter Members
Featured artist Members
Want to become an artist member?
Do you have more questions?
Do you need further advice and support?