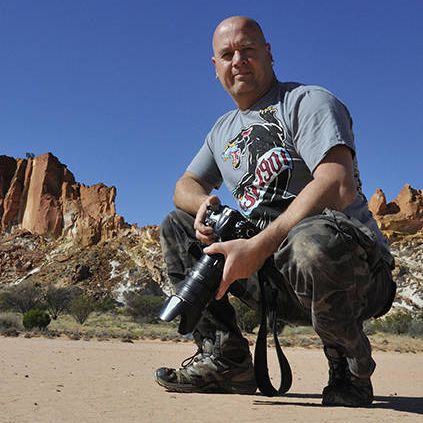 Artist Member
Wayne Quilliam
Painting on all media; Editioned prints; Photography, video, sound or media work; Textiles including fabric and fashion
Artist Member
Wayne Quilliam
Aboriginal photographer, artist, film maker, drone pilot, A.Professor Wayne Quilliam continues to expand his cultural practice as one of Australia's leading creative minds. His award-winning career includes the coveted NAIDOC Aboriginal Artist of the Year, Human Rights Media Award, Walkley Award for photojournalism and nominated as a Master of Photography by National Geographic.

He has created and curated over 300 exhibitions throughout the world and been published in more than 1000 magazines, books, and newspapers. He is the first photographer to hold 4 individual exhibitions at the UN in New York and Geneva for his work on Indigenous Women's Rights and represents his people at international conferences and forums on Indigenous affairs.

He has documented events across the globe for more than 30 years including the Apology, 1967 Referendum anniversary, Garma, Laura, Burunga, Dreaming and Yeperenye festivals and thousands of community events throughout the country. Wayne works with Indigenous groups in Cuba, Mexico, Bolivia, Vietnam, Laos, Cambodia, Indonesia and Guam developing intercultural art and cultural exchanges.

In harmony with his photojournalistic work he is recognised as one of the country's top artists for his diverse art practices including the 'Lowanna' series that infuses textures of earth onto the human form. The DJIWARR series exploring connection to country as seen through the latest drone technology and his photographic exhibition of the 'Apology: Sorry more than a Word', that opened at Parliament House in Canberra and continues to inspire audiences around the world.

In 2020, Wayne will release his first book title 'Culture is Life', he has been commissioned to create a series of work to be projected onto the Sydney Harbour Bridge during Vivid Festival. Wayne's art will feature on the Mt Yengo wine labels and his 3D creations will open at the World Expo on Dubai.
---
Contact details
Search Artists, Dealers and Supporter Members
Featured artist Members
Want to become an artist member?
Do you have more questions?
Do you need further advice and support?