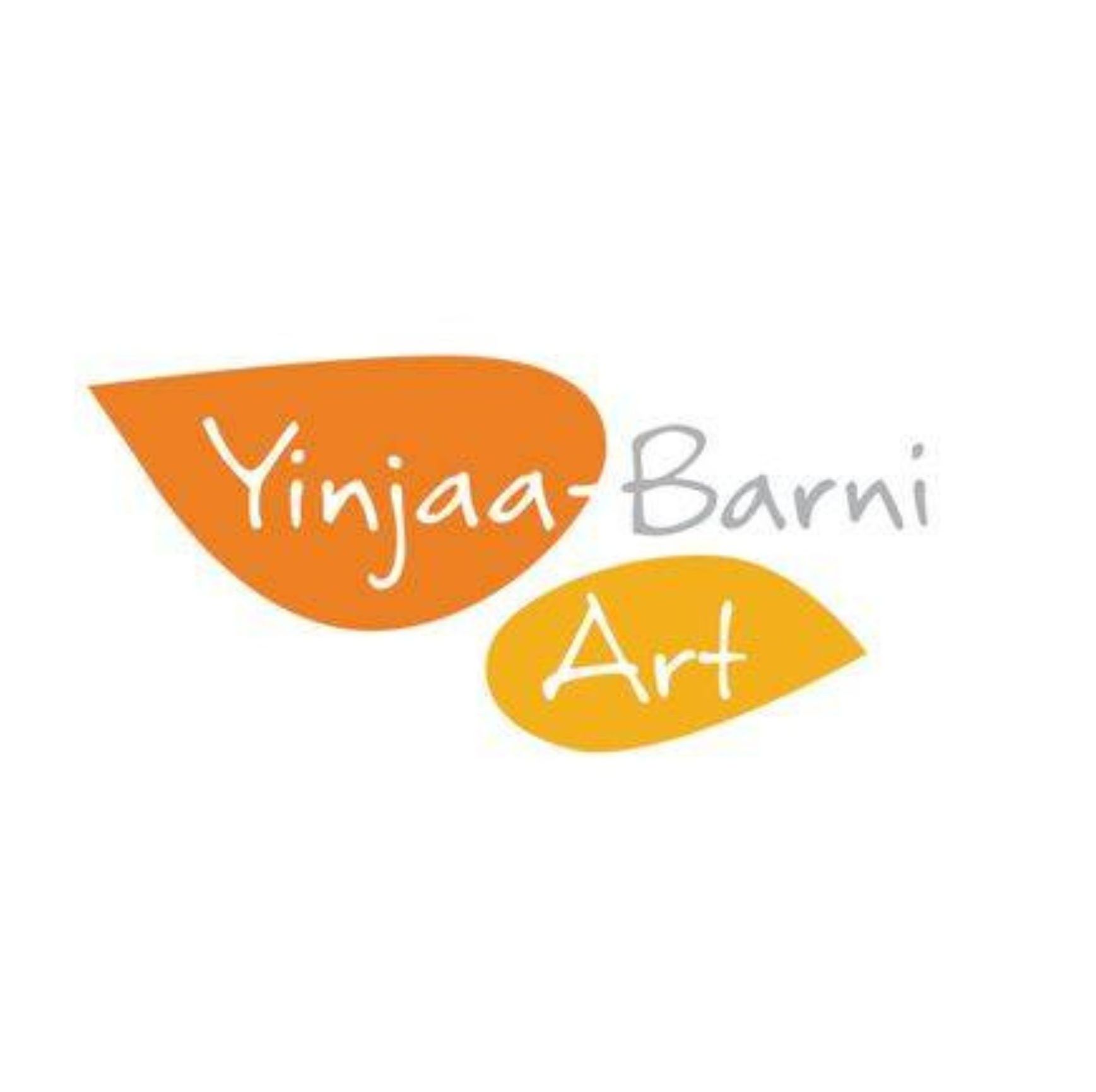 Indigenous Owned
Yinjaa-Barni Art
Painting on all media
Indigenous Owned
Yinjaa-Barni Art
Yinjaa-Barni Art (meaning Staying Together) has had its home in The Dalgety House, a heritage-listed cottage on the main street of Roebourne, it is a community group consisting of predominantly family members and has become a very busy and lively center soon after the group became incorporated in 2007. Prior to this, it operated from a hall at the back of the Aboriginal Church in Roebourne since 2005.

Over the last few years the Yinjaa-Barni artists have enjoyed growing success. Many Individual group members have been recognised in some of the State's leading awards and galleries. Yindjibarndi elder Clifton Mack is a five time Special Category Winner of the Cossack Art Award and twice Outright Winner won major awards in large regional exhibitions, principally the Cossack Art Award, the largest regional art award in Australia. Some have exhibited in Italy, Sydney, Perth and Fremantle at prestigious galleries. Several of the senior artists have been offered solo exhibitions and the younger painters, with their seniors as models, are developing strong individual styles. Clifton Mack and Allery Sandy were chosen as a finalist in the prestigious Telstra National Indigenous and Torres Strait Islander Art Award in Darwin.

Apart from their remarkable talent, one of the qualities that characterises these painters from the Pilbara is the strong individuality of each artist's style. While they all represent their country and the sites and elements that have such personal meaning to them, they relate their stories on their canvases in strikingly distinctive ways.
Their achievements in painting have provided the artists with a great sense of self-worth and pride, as well as providing them with a viable means of economic independence. For the older members of the group, art is an important means of expressing and relaying their love for their country, their culture and the flora of the region. They are now using it as one of the mediums, along with story-telling, to pass on their knowledge to the younger generations, particularly about local plants and their traditional uses. Younger painters are increasingly active in the group and rapidly gaining recognition. The work created at Yinjaa-Barni Art is of an excellent standard, each artist has an individual style with elements of traditional and contemporary art.

Yinjaa-Barni Art centre would like to acknowledge and thank Rio Tinto for its continuous support since our inception in 2007. Through Funding and the annual Colours of our Country Exhibition, along with Woodside's annual Exhibition Ngurra Nyingu Exhibition since 2012.

Yinjaa-Barni Art Centre is proud of its independent status and growing success.
---
Contact details
The Dalgetty House, Lot 3 Roe Street, Roebourne, WA 6718
yinjaa.barni.art@bigpond.com
0439 494 757
46 349 658 358

Mon, Tue, Wed, Thu and Fri - 9:00 AM - 4:00 PM
Search Artists, Dealers and Supporter Members
Featured dealer Members
Want to become an artist member?
Do you have more questions?
Do you need further advice and support?