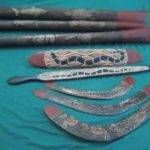 Artist Member
Vincent Peter Autio
Nyoongar
Painting on all media; Wood and/or stone crafted objects; Ceramics, glass, jewellery or furniture
Artist Member
Vincent Peter Autio
Nyoongar
I am Nyoongar from South West WA. I've lived in the Daly River and around Darwin since since 1988. I began making artwork in Darwin mentored by carver Damien Karadada from Kalumburu and landscape artist Gary Hammond from Alice Springs.
Search Artists, Dealers and Supporter Members
Featured artist Members
Want to become an artist member?
Do you have more questions?
Do you need further advice and support?