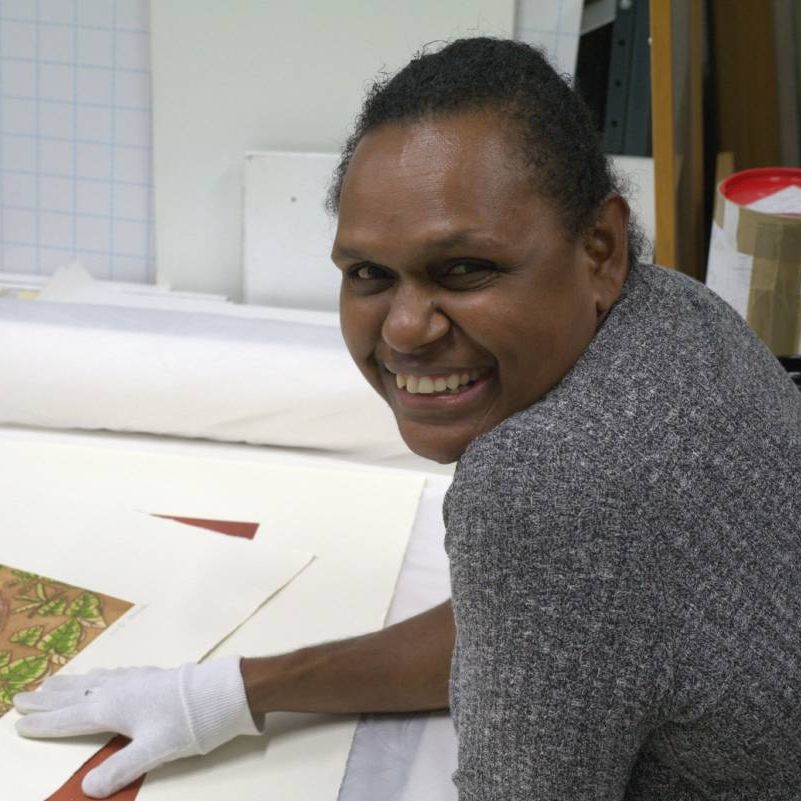 Artist Member
Fiona Elisala Mosby
Kala Kawaw Ya and Kala Lagaw Ya
Editioned prints
Artist Member
Fiona Elisala Mosby
Kala Kawaw Ya and Kala Lagaw Ya
My family is from Duan, at the top of the Torres Strait Islands. I come from a big family and our totem is the major clan group. That's Gabau - the Wild Yam. My dialect is Kalaw Kawaw. I speak Kalaw Kawaw, Creole, and English is my third language.

My work is based around my Aka (Grandmother). She loves gardening, and she's a weaver too. She's my main inspiration. We need to maintain and preserve this knowledge, and make sure that it's passed on.

Fiona Elisala-Mosby works as an artist and as Studio Coordinator at Ngalmun Lagau Minaral (Moa Arts), a vibrant art centre operating from Kubin Village on Moa Island. She graduated from Queensland College of Art with a Bachelor of Visual Art in Contemporary Australian Indigenous Art, and has been exhibiting at art fairs and in galleries since 2015. Her work is held in private and public collections including the National Gallery of Australia and Cairns Regional Art Gallery.
---
Contact details
Search Artists, Dealers and Supporter Members
Featured artist Members
Want to become an artist member?
Do you have more questions?
Do you need further advice and support?