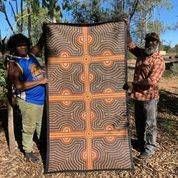 Artist Member
Kevin Bird
Eastern Anmatjerra
Painting on all media
Artist Member
Kevin Bird
Eastern Anmatjerra
I am from Mulga Bore in remote Northern Territory, north-east of Alice Springs. I paint my traditional stories and share life with my partner Marie Ryder.
---
Contact details
NT
contact@indigenousdhawucreative.com.au
Search Artists, Dealers and Supporter Members
Featured artist Members
Want to become an artist member?
Do you have more questions?
Do you need further advice and support?