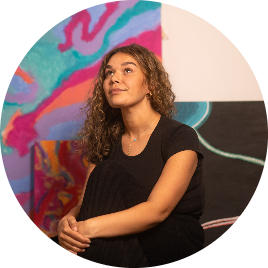 Artist Member
Savannah Travia Dann
Nyul Nyul, Nyikina, Mangala, Bardi, Kija, Jaru, Bunuba, Walmatjarri
Painting on all media; Editioned prints; Merchandise and licensed products
Artist Member
Savannah Travia Dann
Nyul Nyul, Nyikina, Mangala, Bardi, Kija, Jaru, Bunuba, Walmatjarri
Savannah Travia-Dann is a young Nyul Nyul woman from Winawaal Country on her father's side, with ties to Nyikina, Mangala, Walmatjarri, Bunuba, Kija and Jaru language groups throughout the Kimberley. Dympana is Savannah's bush name given to her by her Aunty. She has featured in Fremantle Art Centre's Revealed Exhibition in 2021 as both a featured artist and an arts worker. She was also featured in Fre-OH! magazine and on NITV's 'The Point' for Revealed.

Her father Robert Dann has been an inspiration in her life, guiding her through the arts world with his experiences and knowledge. He runs a successful bush food and medicine business, 'Bindam Mie', and a well known tourism company named 'Kimberley Cultural Adventures' both businesses span across the Kimberley.

Savannah began painting in 2020 during the pandemic, since then her inspiration began to grow and evolve into something she never imagined. She has experience with working with acrylics on canvas and has completed a few murals across Boorloo (Perth, WA), one of which included a mural workshop held by jdpenangke and the City of Vincent.
---
Contact details
WA
dympana_art@hotmail.com
Search Artists, Dealers and Supporter Members
Featured artist Members
Want to become an artist member?
Do you have more questions?
Do you need further advice and support?