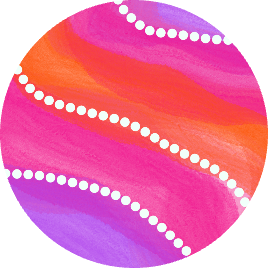 Artist Member
Madeleine Edwards
Jaru
Painting on all media; Photography, video, sound or media work; Graphic and digital design; Merchandise and licensed products; Public art
Artist Member
Madeleine Edwards
Jaru
Madeleine Edwards, is a Jaru woman from the Kimberley region of Western Australia. Madeleine holds a Bachelor of Commerce (Major in Marketing) from the University of Western Australia and is the Founder of creative agency Jalani Media.

Working primarily with acrylic on canvas, Madeleine's artwork is unique blend of traditional and contemporary influences that reflects her cultural heritage and personal experiences. In addition to traditional mediums, she seamlessly blends the digital realm with her creative expression, producing captivating digital art and innovative graphic designs.
---
Contact details
WA
hello@jalanimedia.com
0404535344
61484110029
Search Artists, Dealers and Supporter Members
Featured artist Members
Want to become an artist member?
Do you have more questions?
Do you need further advice and support?