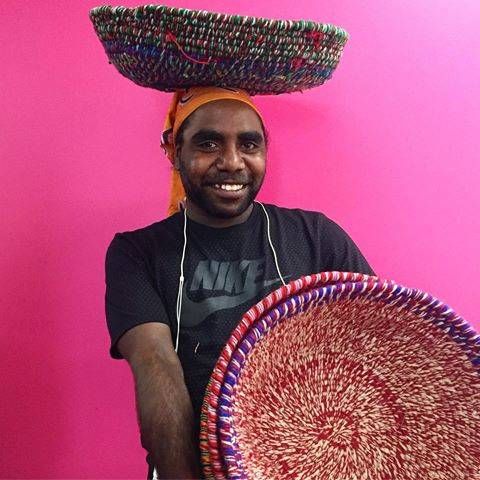 Artist Member
Corban Williams
Painting on all media; Weaving
Artist Member
Corban Williams
I was born in Newman hospital. Mum, Dad, Nanna and Pop lived in Jigalong before, but they moved into town before I was born. I'm one of seven children. I grew up in Newman- this is my home. I like to travel but I worry about home. When I was younger I went to Newman Primary (Yellow) School and Newman Senior High School.

My Nanna and Pop used to take us out hunting for bush tucker. I'd help them make a fire and tea. Me and Pop would go out to the swamp area between Newman and Kumarina. Nan, Pop, Mum and Dad would tell funny stories about our family and make me laugh.

I work with KJ (Kanyirninpa Jukurrpa, ranger organisation) teaching Cultural Awareness, and help the YMCA with youth programs. I work at Martumili too, helping to sell the paintings and get the canvas ready. I come to Martumili to paint about my Country, where my grandfather walked around and collected food, and visited the same rockholes I do. I paint to keep my culture and stories and share with others.
---
Contact details
WA
martumili@eastpilbara.wa.gov.au
08 9175 1020
Search Artists, Dealers and Supporter Members
Featured artist Members
Want to become an artist member?
Do you have more questions?
Do you need further advice and support?