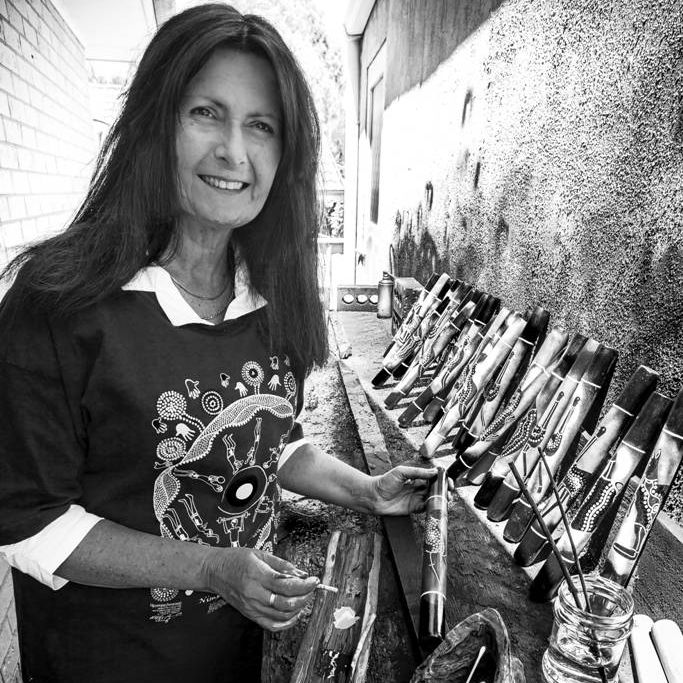 Artist Member
Andrea Dutka (Bulku)
Painting on all media; Wood and/or stone crafted objects
Artist Member
Andrea Dutka (Bulku)
My name is Bulku. I am an Aboriginal artist from the Dharug people near Parramatta (Sydney area). I started painting over 20 years ago when I was already an adult and was lucky to have 2 elders in particular to guide and teach me. Unfortunately they are no longer with us now but I try to keep true to their teaching. I have also been fortunate enough to have had many other elders and teachers visit me over the years who have been generous enough to share their stories with me.

Their influence on my art has been invaluable.

My style is a blend of all the influences in my life: I chose dot painting which was the style of my teachers and I believe best enables me to convey the stories I want to tell. This originated in the central desert areas and has since been adopted widely throughout Australia.

I love this style because of how the layers glimpse from behind to complete the story. Originally these stories were told by scraping into the earth with a stick or by hand. Sometimes coloured sand or small stones were assembled in patterns over this and perhaps leaves and seeds were used as a third or 4th layer. Even more layers could be added to tell the story. I like positive stories of family, journey and home.

Please look behind the dots to the shadows under them which define us and further behind to the colours of the land which supports and teaches us, and in front on top of the dots to the new influences which surround us.

Bulku.
---
Contact details
Search Artists, Dealers and Supporter Members
Featured artist Members
Want to become an artist member?
Do you have more questions?
Do you need further advice and support?