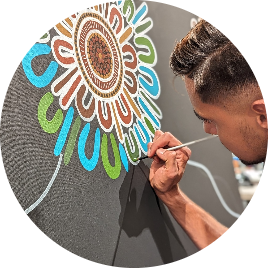 Artist Member
Presten Warren
Wirangu, Barngarla, Kokotha, Mirning, Pitjantjatara, Dieri
Painting on all media; Editioned prints; Wood and/or stone crafted objects; Graphic and digital design; Merchandise and licensed products; Reproductions of original works on canvas or other materials; Public art
Artist Member
Presten Warren
Wirangu, Barngarla, Kokotha, Mirning, Pitjantjatara, Dieri
Meet Presten Warren, a 23-year-old Indigenous artist living in Port Lincoln, South Australia. Born in Port Augusta and raised in Ceduna, he is a proud Wirangu/Dieri/Kokotha/Mirning man.
Walking in the footsteps of his Grandmother who taught him about Aboriginal art, Presten honours his culture by keeping this important tradition alive.
Since 2022 Presten has sold over 100 artworks, received several awards, secured international contracts and travelled across Australia for his work.
---
Contact details
Port Lincoln, SA 5606
presten@paintedstudios.com.au
0477955544
Search Artists, Dealers and Supporter Members
Featured artist Members
Want to become an artist member?
Do you have more questions?
Do you need further advice and support?