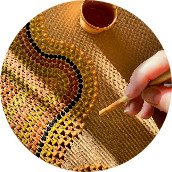 Artist Member
Laura Lockwood
Darug
Painting on all media
Artist Member
Laura Lockwood
Darug
I am a contemporary artist living on the Gold Coast. My passion is aboriginal art and I love using bright modern colours in my art. My aboriginal heritage is from the Darug clan in Sydney.
Search Artists, Dealers and Supporter Members
Featured artist Members
Want to become an artist member?
Do you have more questions?
Do you need further advice and support?