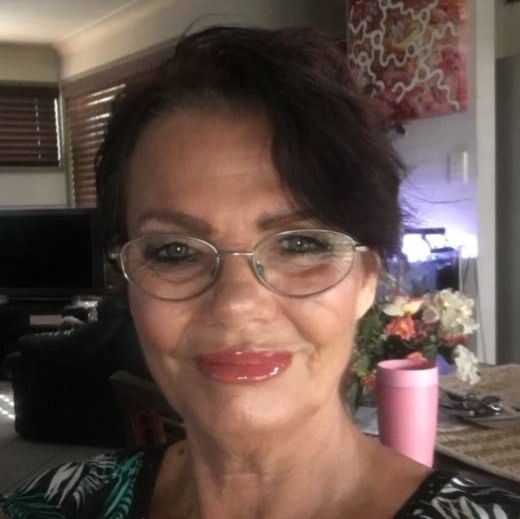 Artist Member
Cynthia Farr
Painting on all media
Artist Member
Cynthia Farr
I WAS BORN IN CUNNAMULLA SOUTH WESTERN QUEENSLAND and YUMBA. The tribal groups from this region include the Kunja, Budjari, Kullilla, but my tribe is the BARUNGGUM TRIBE.

For several thousand years, the Darling Downs was home to various clans of the Wakka Wakka language speakers: the Keinjan around Warwick, the Giabal around Toowoomba, the Barunggam to the west of Dalby, and the Jarowair around the Bunya mountains. To the south and west were the Bigambal and Kambuwal of the Kamilaroi speakers; to the east were the Jagara of the Turubul speakers. The Downs Indigenous peoples were also known as the Gomaingguru, men of the Condamine, or Gooneburra, 'fire blacks' (from their habit of frequently firing the grasslands). They numbered perhaps 1500-2000.

I don't set out to produce art about one subject or another. I'm never without paint to hand so I am constantly drawing and painting sometimes the drawings are left in the sketchbook and paintings are always very exciting to do other times they develop into more in-depth ideas and detailed images.

I didn't set out to be an environmental artist or to create artwork relating to social commentary but as my portfolio developed and people started to review my work, the descriptions started to emerge and I began to notice a pattern I hadn't intended but am now pleased with.

My work tends to focus on the environment, the evolution of animals and wildlife and their incredible lives and survival on the planet and the consequences that man this has on nature. Some reviews have labeled my work as realistic which is what I need to achieve but I always try to depict a positive message too - the persistence of nature in recapturing what once belonged to the earth.

At school, the only class I really paid any attention in was art. I simply wasn't interested in anything else and I think my obsession with depicting the monotony of the workplace and workforce started there...as soon as I could pick up a pencil I felt drawn to sketch and paint the environment around me which here in Australia. None of it was intentional - it all developed and evolved over time. People always ask for my artist statement so I needed to do one but I've never liked to explain a certain piece of work - if you've made a picture with camera or oils and that's how you wanted it to be - hopefully it can speak for itself.
---
Contact details
Search Artists, Dealers and Supporter Members
Featured artist Members
Want to become an artist member?
Do you have more questions?
Do you need further advice and support?