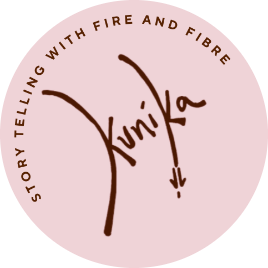 Artist Member
Lisa Henderson
Barkindji
Weaving; Wood and/or stone crafted objects; Ceramics, glass, jewellery or furniture; Sculpture or installation
Artist Member
Lisa Henderson
Barkindji
Lisa is a proud Barkindji woman, living and creating on Quandamooka country.

Known for her woven narratives and scorched tales, Lisa is a contemporary weaver and pyrographer. Her work is deeply personal and carries a powerful message of cultural respect and preservation.

She carefully crafts each piece with intention and purpose, using natural materials as her canvas, to create a powerful visual reminder of the importance of her culture.

Each piece is a reflection of her connection to the land and is a way of honoring her ancestors and preserving her culture for future generations. Although not all her creations are not meant for the general public, many of them tell the stories of others as commissioned, enabling them to remember their ancestors, totems, family, and country culture for future generations.
---
Contact details
2 Braemar Court, Redland Bay, QLD 4165
kunikastudio@gmail.com
0404548871
93085716996
Search Artists, Dealers and Supporter Members
Featured artist Members
Want to become an artist member?
Do you have more questions?
Do you need further advice and support?