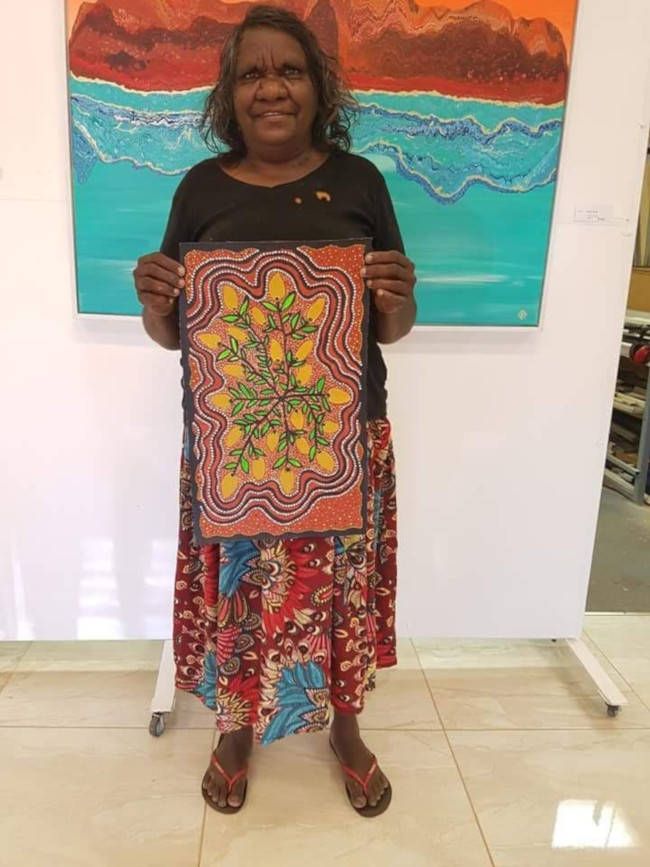 Artist Member
Marion Cox
Painting on all media; Wood and/or stone crafted objects; Ceramics, glass, jewellery or furniture
Marion Cox is a senior Gooniyandi artist from Yiyili Community, located 110km west of Halls Creek in the Kimberley region of Western Australia.

Marion was born on GoGo Station near Fitzroy Crossing and went to school in Halls Creek. Marion moved to Derby in her twenties and has five children, who all grew up in Derby. Marion now works at Yiyili Community and lives in Yiyili Community.

Marion leaned to paint when she was very young by watching her older brothers and sisters, whom are all artists. Her daughters in turn have continued the stories of the Cox family Dreaming.

Marion primarily uses ochre which she and her family collect from ochre pits throughout her country. She paints ochre on canvas and boab nuts. Her stories depict family, country and bush tucker (plants and fruits). She passes these stories down to her children through storytelling and her artworks.

Marion is a twice-winner of the Kimberley Art Awards (2015 & 2016) and a finalist in the 2018 Hedland Art Awards.
Search Artists, Dealers and Supporter Members
Featured artist Members
Want to become an artist member?
Do you have more questions?
Do you need further advice and support?