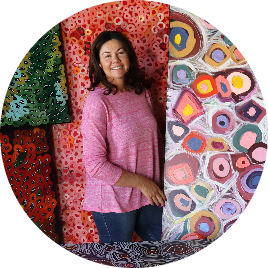 Artist Member
Maria Watson-Trudgett
Wiradyuri
Painting on all media; Editioned prints; Merchandise and licensed products
Artist Member
Maria Watson-Trudgett
Wiradyuri
I'm a professional artist and First Nations Strategic Advisor:

- Art Commissions
- Artwork Licensing
- Artwork for merchandise and Reconciliation Action Plans
- Collaborations
- My artworks express my connections to my Aboriginal culture, in contemporary expressions of now.

My painting style is a contemporary fusion of abstract art and cultural motifs. I use flowing lines and groups of Aboriginal symbols to narrate a story and preserve cultural traditions, it's the way my old people communicated with me, via line and symbol drawings in the earth/ground. This style represents my Aboriginal culture and the abstracts of my culture, which arose from colonisation.
---
Contact details
81, Brumby Circuit, Sumner, QLD 4074
maria@mariawatsontrudgett.com.au
+61438173310
95 940 618 125
Search Artists, Dealers and Supporter Members
Featured artist Members
Want to become an artist member?
Do you have more questions?
Do you need further advice and support?