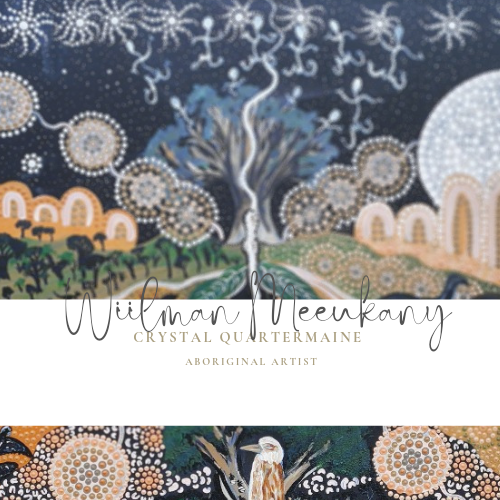 Artist Member
Crystal Quartermaine
Noongar; Wiilman, Ballardong, and Meneng Clans
Painting on all media; Photography, video, sound or media work; Wood and/or stone crafted objects; Textiles including fabric and fashion
Artist Member
Crystal Quartermaine
Noongar; Wiilman, Ballardong, and Meneng Clans
My name is Crystal Quartermaine. I am from the Southwest Noongar Clans; Wilman, Ballardong, Nyaki Nyaki, and Goreng. Currently living on Whadjuk Boodja/country, here in Ellenbrook. I visit home regularly with my Mob, to reconnect with lands, spirit, and to learn my culture.

I have painted since I was a child. My stories/yarns come from my grandfather (passed), who raised me. I was very close with my grandfather and often would often fall asleep under the stars, listening to the stories about the skies.
A lot of my painting incorporate the Meeka/Meeukany (Moon/Moonlight), alongside Astrology.

I am currently a full -time Proud mother of four beautiful talented children. Leaving work as a nurse to focus and raise my children, established the time to retake up my hobby of painting.
Search Artists, Dealers and Supporter Members
Featured artist Members
Want to become an artist member?
Do you have more questions?
Do you need further advice and support?