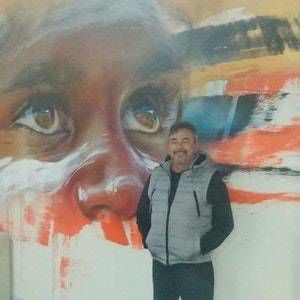 Artist Member
Michael Laurie Breen
Painting on all media; Editioned prints
Artist Member
Michael Laurie Breen
I was born and raised in the small town of Junee in Southern Central NSW. My Mob is the Wiradjuri people. I gained a scholarship in Aboriginal Arts and Culture at the Kangan Batman Tafe institute in cert1-4 and moved to Melbourne in July 2016. Art has become a real passion and my main inspiration to paint is my Cultural Heritage, it is a part of my Culture that I can continue and improve on as there is no end to what you can create using traditional, customary and contemporary styles, designs and imagination with the availability of the vast colours and mediums to produce modern Cultural Art.

I have now become an established Artists exhibiting and selling at "Between the Lines" 45 Downstairs Gallery Flinders Lane, "Uplifting the Spirits" Kingston Gallery Morabin, " Back on Track" Kangan Batman Tafe Broadmeadows Campus. As well as donating many pieces for fundraising and Charity Events and Auctions and ongoing private commissions.
---
Contact details
Search Artists, Dealers and Supporter Members
Featured artist Members
Want to become an artist member?
Do you have more questions?
Do you need further advice and support?